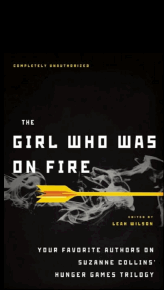 The Girl Who Was on Fire: Your Favorite Authors on Suzanne Collins' Hunger Games Trilogy
Katniss Everdeen's adventures may have come to an end, but her story continues to blaze in the hearts of millions worldwide.

In The Girl Who Was on Fire, thirteen YA authors take you back to Panem with moving, dark, and funny pieces on Katniss, the Games, Gale and Peeta, reality TV, survival, and more. From the trilogy's darker themes of violence and social control to fashion and weaponry, the collection's exploration of the Hunger Games reveals exactly how rich, and how perilous, protagonist Katniss' world really is.
How does the way the Games affect the brain explain Haymitch's drinking, Annie's distraction, and Wiress' speech problems?
What does the rebellion have in common with the War on Terror?
Why isn't the answer to "Peeta or Gale?" as interesting as the question itself?
What should Panem have learned from the fates of other hedonistic societies throughout history—and what can we?
How does fashion affect Katniss' part in the games and why isn't Cinna given more credit?
The Girl Who Was On Fire covers all three books in the Hunger Games trilogy.

CONTRIBUTORS: Jennifer Lynn Barnes, Mary Borsellino, Sarah Rees Brennan, Terri Clark, Bree Despain, Adrienne Kress, Cara Lockwood, Elizabeth M. Rees, Carrie Ryan, Ned Vizzini, Lili Wilkinson, Blythe Woolston, Sarah Darer Littman

Smart Pop
ISBN-10: 1935618040
ISBN-13: 978-1935618041
Also available as an e-book!




Rave Reviews



"Fans of the trilogy will undoubtedly enjoy exploring elements of the series through the eyes of the author's contemporaries, each with a different expertise. The selections address the deeper social and political issues as well as the development of multilayered characters through witty and sometimes raw essays that ask readers to look deeper."—Jessica Breslin, School Library Journal